16th Annual Tuxedo Cat Ball
POSTPONED
Date and Time TBD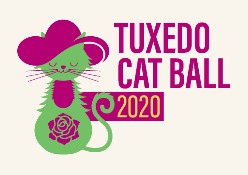 Tuxedo Cat Ball
POSTPONED
Date and Time TBD
Tuxedo Cat Ball – POSTPONED
Following recommendations of Governor Roy Cooper and to protect the health of our supporters, volunteers and staff, we are postponing the 2020 Tuxedo Cat Ball. We will honor all tickets and sponsorships at the rescheduled fundraising event to celebrate you – our adopters, volunteers and supporters who have made it possible to save 44,000 lives.
Thank you for your continued support. We thank you and our cats thank you!
POSTPONED — 16th Annual Tuxedo Cat Ball: Friday, April 17, 2020
Questions? Contact Pam at pam@safehavenforcats.org or (919) 582-7834.
About SAFE Haven for Cats…
SAFE Haven is regarded as progressive leader in animal welfare in the State and is a regional hub serving thirty-one counties in North Carolina.
Our mission is to eliminate euthanasia due to overpopulation.
In 1994, SAFE Haven began as the first No Kill shelter just for cats in the Triangle. As a brick and mortar shelter, 10,500 stray, abandoned, orphaned and injured cats and kittens have been adopted to date. (900 last year).
The SAFE Care Spay / Neuter Clinic, (established in 2001) is the longest serving high volume, low-cost community clinic in the area. To date over 32,000 sterilizations have been performed.
The Pet Food Pantry supplies needy individuals with dog and cat food. Over eighty tons of food has been distributed since 2012.
A very successful Community Cat Program includes TNVR services for almost 500 cats per year.
Education programs, behavior counseling, low cost Rabies and Microchip services, and a well-run volunteer program round out the services of SAFE Haven.
Look back at the fun that we had last year: