Vaccination & Microchip Clinic
May 6 @ 9:00 am

-

1:30 pm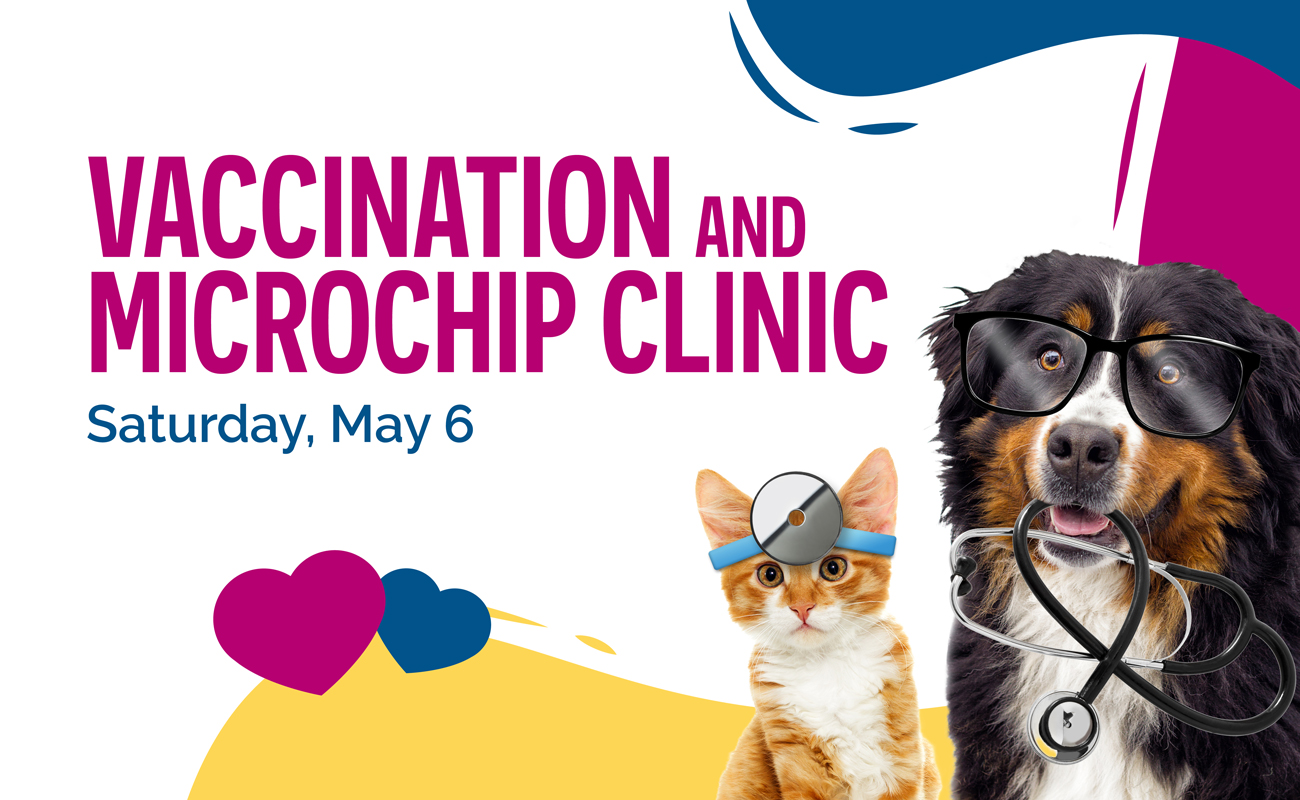 When pets are like family, we do everything to keep them healthy and safe. Come get your cat or dog vaccinated and microchipped at our Vaccination & Microchip Clinic on Saturday, May 6, 2023, from 9 am – 1:30 pm at SAFE Haven for Cats! Rabies and distemper vaccines are only $5 and microchips are $15.
Why Vaccinate Against Rabies & Distemper?
Rabies is an easily-preventable disease caused by a virus often found in mammals (most commonly raccoons, foxes, and bats). It's transmitted mainly through saliva via bites or scratches of an infected animal; without immediate treatment after exposure, rabies is nearly always fatal. Distemper is a highly contagious and incurable disease that is spread from animal to animal. Getting your pets vaccinated against these two diseases will keep them healthy and disease-free. Additionally, rabies vaccines are required by law in the state of North Carolina; all owned dogs and cats must be vaccinated by four months of age, and the vaccination must be kept current.
Why Are Microchips So Important
Since you're considering having your pet vaccinated, why not also think about getting them microchipped? Only about 22% of lost dogs and 2% of lost cats are reunited with their owners, but microchipping increases the chances of reuniting lost pets with their humans to almost 75%! During this simple and quick procedure, a small chip is inserted below the surface of your pet's skin that allows them to be scanned by animal control and veterinarians if they get lost. Microchips are an important part of pet care because you never know when your pet might decide to go off on an adventure!
Vaccination and Microchip Clinic
Saturday, May 6, 2023
Pet Cats and Dogs: 9:00 a.m. -12:00 p.m.
Feral Cats: 12:30 – 1:30 p.m.
SAFE Care Clinic | 8411 Garvey Drive | Suite 133C
Registration is required for this event. There are no refunds. The vaccination registration is good for May 6 only.
Cats must be in carriers. Dogs must be on a leash. Payment is required at the time of registration.
PRICE
Rabies Vaccination: $5
FVRCP (Cats – Distemper) Vaccination: $5
DHPP (Dog – Distemper) Vaccination: $5
Microchip: $15
* The 3-year rabies vaccine is available for animals with a valid and current vaccination certificate. The certificate must be displayed at check-in. Otherwise, the one-year rabies vaccine will be administered. We must have the certificate; the tag is not sufficient proof.
Feral Cats – 12:30 – 1:30 PM
Cats must be in a trap or carrier. Payment is NOT required at the time of registration for feral cats. Cash and credit cards payment are accepted at the event.
PRICE
• Rabies Vaccination: $5 – One-year rabies vaccination only
Visit the SAFE Care Clinic to learn about all the benefits of vaccination and microchipping for your pets.