About Us
History and Who We Are
About Us
History & Who We Are
Since opening, SAFE Haven for Cats has orchestrated the adoptions of more than 14,000 cats and kittens and spayed or neutered more than 46,000 cats, kittens and small dogs in our clinic.
During the last fiscal year, 1,240 cats and kittens were adopted; 5,500 cats, kittens and small dogs were sterilized in our clinic; hundreds of animals were fed through our Pet Food Pantry; and 250 cats were temporarily housed in 45 foster care homes.
The shelter began in the two-car, heated and air-conditioned garage of founder / President Pam Miller 28 years ago. SAFE Haven's first 400 cats were adopted from that garage. Five years later, SAFE Haven moved to a larger facility in a business center on Durant Road in Raleigh, opening the Triangle's first permanent no-kill shelter for cats. In 2001, the SAFE Care Spay / Neuter Clinic was opened, a major initiative. At that time, it was the only freestanding clinic for cats in North Carolina. In 2012 SAFE Haven launched a pet food pantry to supply food on a temporary basis to low-income households in danger of having to give up their companion animals. SAFE Haven has expanded twice and now occupies rental space in two buildings: one space for the adoption center; the other for the spay / neuter clinic.
SAFE Haven gets no government funds and relies entirely on individual donors, grants and its own fund-raising initiatives, including the Tuxedo Cat Ball. SAFE Haven spends 83 percent of its annual budget on its programs and services. Only 17 percent goes to administrative costs. SAFE Haven is also the recipient of $323,000 (yearly) in donated time from 125 volunteers per week.
In 2023, Pam decided to pursue other opportunities and move into the next chapter of her long career in nonprofits. Her dedication to animal welfare and the community are seen every day in the faces of healthy and happy animals. Patti Godin, who has been the Senior Operations Director at SAFE Haven since 2017, has assumed the role of interim executive director.
Thank you to our community for recognizing our work to save the lives of cats in the Triangle!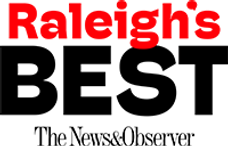 2022
News & Observer Best Of – Silver – Best Nonprofit Organization

2022
Best of the Triangle – IndyWeek – Best Nonprofit Organization