Fur Cat's Sake Online Auction
Started: Monday July 11, 10:00 am
Ended: Thursday July 21, 5:00 pm
Thank you for participating in the first ever FUR CAT'S SAKE Online Auction!
July 11 at 10:00 am through July 21, 2022 at 5:00 pm
Thank you to everyone that bid and donated during our Fur Cat's Sake auction! Because of you, we raised $10,989.46 for the kitties. 😻 😻
Every item you see below has been donated by cat loving members of our community to raise money for SAFE Haven for Cats lifesaving programs and services.
Thank you so much for taking part in our FUR CAT'S SAKE Online Auction!
Here are a few things for you to know:
The auction will open on Monday, July 11, 2022, (10:00 a.m.) and will close on Thursday July 21, 2022, (5:00 p.m.)
Local pick up will be at SAFE Haven for Cats, 8431-137 Garvey Drive, Raleigh, NC 27616 on the following days:
Friday, July 22, 2022, from 10:00 am to 3:00 pm
Saturday, July 23, 2022, from 10:00 am to 3:00 pm
And at other times with prior arrangement.
All payments must be made by credit card.
All items are on an "as is" basis. We have made every effort to accurately describe every item. Any areas of know damage have been noted. Expiration dates of any gift certificates are noted.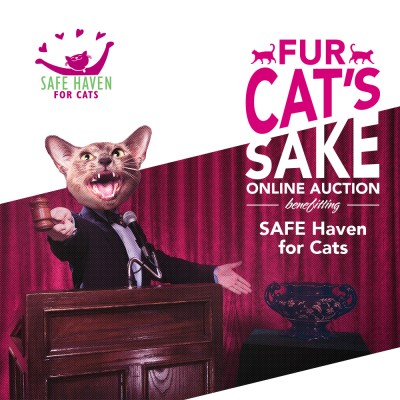 Shipping
Some items, because of their nature, cannot be shipped and will have to be picked up in person. We will make every effort to accommodate pick up.
If an item can be shipped it is noted on the item description. The price of shipping is also noted. IF you win an item and want it shipped you will be required to email brittany@safehavenforcats.org to verify your shipping address prior to July 31, 2022. The cost of shipping the item will be added to your credit card on file at that time.
About SAFE Haven for Cats:
Twenty-eight years ago, SAFE Haven began in a two-car garage with $800 in cash.
Fast forward to 2022 and SAFE Haven for Cats is one of the State's leading animal shelters with many programs and services created with just one goal: To eliminate euthanasia of cats and kittens due to overpopulation. And with the expansion of SAFE Haven's physical space (completed in 2020) we are closer than ever to that goal.
SAFE Haven's very successful programs have reached over 51,000 animals to date.
Here are a few of our favorite accomplishments from the past year:
We found loving homes for 1,200 cats and kittens at our no-kill brick and mortar shelter.
We sterilized 5,000 cats and dogs in our SAFE Care Clinic which has greatly reduced overpopulation in the State by sterilizing over 45,000 cats since opening in 2001.
We distributed 11.4 tons of donated food through our Pet Food Pantry, helping 100 families in financially challenging circumstances to feed their cats or dogs.
We saved 381 cats from euthanizing shelters.
We served 24 counties across North Carolina, representing a quarter of the entire state.
We trapped, neutered, and safely released 635 feral cats.
We partnered with 290 volunteers, who give their love and time to provide comfort to the cats and kittens in our care. These loyal animal lovers save us over $323,000 in salary dollars per year; funds that are repurposed to subsidize pet food, medical care, and shelter.