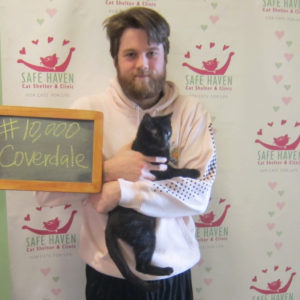 Coverdale went home this week to Matthew Glof as the 10,000th cat saved by SAFE Haven for Cats. The shelter also fixed its 30,000th cat this month in the low-cost SAFE Care Spay / Neuter Clinic.
Marking 25 years since its founding as Raleigh's first no-kill cat shelter, the local nonprofit organization has a lot to meow about.
10,000 cats adopted is a major milestone for the nonprofit. "Each cat adopted means a life saved. I started SAFE Haven because I was heartbroken by the thought of one more cat needlessly dying in Raleigh. I'm so inspired that our community has stepped up to adopt, volunteer and support cats over the last 25 years so that we could save 10,000 lives," said Founder and President Pam Miller.
Every cat adopted from SAFE Haven is spayed or neutered before they go to their new home. This important step helps save lives by reducing feline overpopulation. An unspayed female cat can begin reproducing at 6 months of age and have 2 litters of kittens per year. With the number of stray cats in the Triangle, the math is overwhelming.
Miller started the cat rescue in her garage to provide a refuge for cats as she found them forever homes. Since their humble beginnings, SAFE Haven has grown to care for hundreds of cats between their shelter and foster program. Beyond adoptions, the shelter offers innovative animal welfare services like the "Tabby Cabby" service to transport cats from the shelter to specialty vets, a hospice program, a program for special needs cats, a "Mature Companions" program to match older cats with suitable owners, and the Triangle's first in-shelter clinic. They've come a long way towards reaching their goal of ending cat homelessness. Read their full 2018 impact statement here.
"It's a major myth that no-kill means that we pick and choose which cats we take in," explained Miller, talking about why SAFE Haven has been no-kill since day one. "That is absolutely not true at SAFE Haven. Even when our shelter is full, we are committed to doing everything we can to find loving, forever homes for every adoptable, treatable and recoverable cat that we take in without resorting to euthanasia."
The SAFE Care Clinic was the first in the Triangle to be on-site at an animal shelter. It offers low-cost or free services to help all pet owners afford to spay and neuter. "Having the SAFE Care Clinic as a part of SAFE Haven allows us to streamline our mission," said Clinic Medical Director Dr. Jennifer Bledsoe-Nix. "The fact that we can spay/neuter, microchip and give vaccinations to the cats that come into the shelter gives us the ability to fully care for each of these animals as soon as they come in and set them up for a healthy life. It's an invaluable resource."
The organization's biggest aspiration is to serve the needs of the most at-risk pet owners. For many low-income families, feeding pets can sometimes be a challenge. To address the issue, SAFE Haven established the Pet Food Pantry, stocked by community donations, and has since given 11 tons of food to families across the Triangle. "One in four pet owners who give up their pets to a shelter say it is because they cannot afford to care for them. Over the course of a year, this could add up to several hundred animals," said Miller. "The Pet Food Pantry provides free pet food, for 3 months or less, to pet owners who cannot afford to feed their pets in Wake County, keeping pets with the families who love them."
To help celebrate its 25th Anniversary year, SAFE Haven is hosting several special events. Stay tuned to safehavenforcats.org for more information.