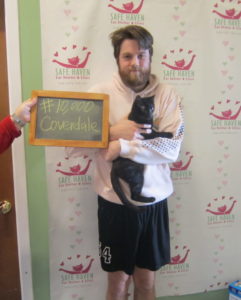 There are special moments that deserve to be celebrated: a first birthday, graduation, a 10,000th adoption. You read that right. SAFE Haven celebrated its 10,000th adoption in 2019.
The lucky cat: Coverdale. Coverdale arrived at the shelter on February 11, 2019, along with his siblings Bonchester, Bosworth, Dunlop, Jubilee Blue, and Aragon. After being found in the Greensboro/Triad area at seven months old, it was clear that he had already been through so much but would now get the attention he deserved. When he was first looked over by our vet he was covered in fleas, had hair loss on his tail, and had an ulcer on his tongue. After healing, he was ready for his big move to the adoption floor.
After about a month, Coverdale's fur-ever dad found him! It was love at first sight and a huge milestone for SAFE Haven. Coverdale was our 10,000th adopted cat! His adopter, Matt, was surprised with a huge gift basket of special items for himself and for Coverdale. Lots of pictures were taken and lots of joy was spread around the shelter. We've recently checked in with Coverdale and Matt. Matt let us know that "he is doing well and has had a little brother for about a year! Coverdale has been a very important part of my life since I adopted him. I can't imagine a life without him!" A super sweet ending for such a wonderful occasion!
Meet the cats just like Coverdale looking to be our next adoption!