At SAFE Haven for Cats, we see all cats as beautiful. Sometimes an extra-handsome kitty comes along that needs a little help getting fit. One such cat: Colonel.
Adopted from SAFE Haven in September 2016, Colonel developed some litter box issues and, sadly, his adopter could no longer keep him in his apartment. He re-entered our shelter in August 2018 weighing 26 pounds. We quickly developed a weight loss program just for him!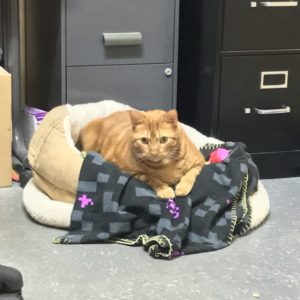 Our shelter director, Patti, quickly made him her office assistant. He was put on a strict, wet-food-only diet. Volunteers and staff were happy to give him lots of attention and play time to help him move a little more. Weekly weigh-ins quickly showed us that his special program was working!
Little by little, every week his weight went down. To celebrate his weight loss wins, he was allowed to take victory walks around the shelter's adoption area. He was happy to make sure that the other cats took notice of his freedom. He even helped us pick a winner for our Hamilton tickets giveaway and promoted our Stars and Stripes clinic promotion!
When Colonel reached 20 pounds, we knew it was time to let him find his fur-ever home! In late-January 2019, Colonel found his family. A recent update from his adopter tells us that Bubba (his new name) "is doing great! He has completely taken over the house and has all three of our dogs in check."
We love getting updates from our adopters, especially when they include details like these!