BIG NEWS!
All your donations are TRIPLE MATCHED! … AGAIN!!! We are in our final hours to reach our goal of raising $140,000 for cats!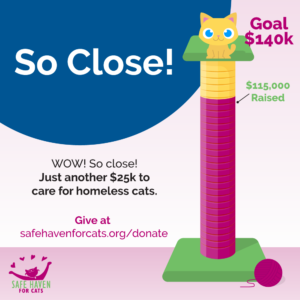 2018 has been an incredible year for cats in the Triangle… 
Since July – just six months – 
490 cats and kittens have been adopted
1,623 cats have been sterilized at the SAFE Care Clinic (47% for free thanks to generous donors like you!)
34 cats saved from Hurricane Florence
We've promised our feline friends to do even better in 2019.
🌟🌟🌟
We need YOU to help keep our promise.
A donation of $25 will grow 3x to $75 and will feed three kittens for six days.
A donation of $85 will grow to $225 to help control the pet population by spaying or neutering three cats.
A donation of $125 will triple to $375 to pay for a month of antibiotics, nose drops and eye ointment for 12 cats with colds.
🌟🌟🌟
If we reach our $140,000 goal by midnight on the 31st, our leadership donors have pledged to give an additional $140,000! That brings our total to $280,000 to help homeless cats in the Triangle in 2019.
YOU can make it happen! But, you only have a few hours left to donate!