Community cats need community support and one of the best ways to help cat colonies is Trap-Neuter-Vaccinate-Release, or TNVR. 
There are four steps in the process: 
Trap: Using safe and humane traps, feral and free-roaming cats are captured and taken to local clinics like ours. 
Neuter: The cats are spayed or neutered to help break the cycle of unwanted births and colony growth. During surgery, the cat will also be ear-tipped; the small missing section of the ear signals that he or she has been altered. 
Vaccinate: The cats are given vaccines to help reduce the spread of diseases, protecting other feral cats and any feline pets that may be exposed. 
Release: After the cat has recovered from its surgery, the cat can be taken back to its cat colony or a safe location. 
For more information on the process, to rent humane traps, or watch helpful videos about TNVR, visit our clinic website. 
---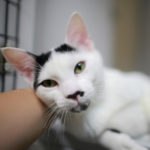 Feline Fundamentals: Basics of Trap-Neuter-Vaccinate-Release
Reserve your spot at our February 12 class on Basics of TNVR. SAFE Haven for Cats Clinic Manager and TNVR expert Gina Jennings will be presenting and sharing great resources. Seats are limited! Click here for more information and to register.