Don't miss the Tuxedo Cat Ball Auctions!
During this year's online-only Tuxedo Cat Ball, you'll be able to bid on silent auctions for over 150 items and participate in our exciting live auction. The best part: all auction proceeds help cats in our area as we expand our facility and programming.
Here are just a few of the awesome prizes you could win so save up those dollars and mark your calendar for Friday, August 14 when the silent auction begins!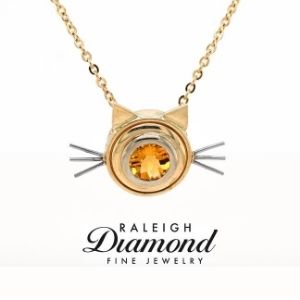 This one-of-a-kind cat pendant has been designed by Raleigh Diamond exclusively for our Tuxedo Cat Ball.
No other necklace like it exists! Inspired by an orange tabby cat, the necklace features 14k Yellow Gold with Diamonds and a Two Carat Citrine. If you love orange cats like we do, this is the necklace for you!