At SAFE Haven for Cats, we say "yes" to saving cats' lives. Most cats that come into our care spend minimal time getting ready for adoption, but some special cats get the royal treatment to get them on the road to their forever home. Queen Margaret was one of those extraordinary cats.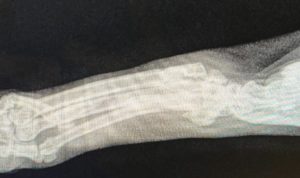 Margaret came to us from Clayton (Johnston County) with an enlarged hind leg. Poor Margaret was in so much pain that she struggled to use that leg. Upon her arrival at SAFE Haven, she received an exam and x-rays, which revealed Queen Margaret was suffering from severe bone degeneration in her lower limbs.
The Medical Director of the SAFE Care Spay/Neuter Clinic, Dr. Tiffany Kutner, had a couple of thoughts on what this degeneration could mean. She was concerned that Margaret had cancer in her leg or an old, very severe injury causing infection of her leg. Either way, Queen Margaret was in extreme pain, and the best way to ensure her survival was to amputate her leg.
Flash forward to two weeks later and Queen Margaret is doing great! After the amputation, Dr. Kutner sent the tissue off to get examined for cancer in case this was something they needed to be aware of in the future.
Luckily, NO cancer was found! Now, Queen Margaret will get to live a long, happy life.
An article from National Geographic discusses how animals can live long, fulfilling lives with three legs. The biggest reason for this is if you have four legs, to begin with, losing one is not as big a deal as it may be to humans. As the article states, four-legged animals often balance perfectly on three legs because they tend to take on a "tripod" stance. This means they position their lone leg towards the center of their bodies to distribute their weight evenly!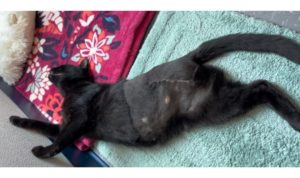 Pictures and videos show that even after only two weeks, Queen Margaret is adapting to the "tripod" method to maintain balance. Queen Margaret can live a happy life without the worry or pain she used to carry as a stray.
Queen Margaret was adopted by a sweet family that could make a loving home for this beautiful monarch. Thank you to the entire team for the care she received and the attention she deserved.
Your donations help us say "yes!" to extra special medical care for the cats in our care. Margaret is just one of the hundreds of cats that receive routine and extraordinary medical care at the SAFE Care Spay/Neuter Clinic. Please donate today in honor of Queen Margaret and all the cats that need a little extra care.