Everybody Likes To Get More For Their Money – Even Our Cats!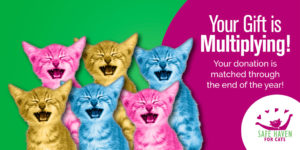 Now through the end of the year, your donation will be matched thanks to our generous leadership donors. Every dollar goes directly to saving the lives of cats in the Triangle. Our goal is to raise $280,000 before 2019. You can help. Donate today! 
---
6,000 Steps to Success

Thank you to the nearly 200 runners/walkers who raised nearly $5,000 at the Run for Their Lives 5K in October. See photos from the event here. 
---
Volunteers Needed! Are You a Good Match?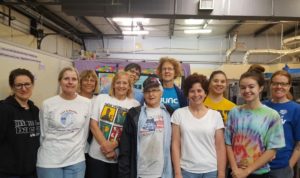 Do you love cats and want to help your community? Then consider joining our volunteer team and attending the next Volunteer Information Session on Tuesday, Nov 13 at 6:30 pm. Come a little early at 6:00 for a special session focused on becoming a foster!. By becoming a foster family, you can help save more lives by increasing the number of cats we can take in from local shelters, the community and emergencies. RSVP for both events here.
---
COMING SOON: Black Friday Special Adoption Event

Watch our Facebook page for details about special reduced adoption fee days during the weekend after Thanksgiving!
---