Fix the Family
April 1, 2018

-

May 1, 2018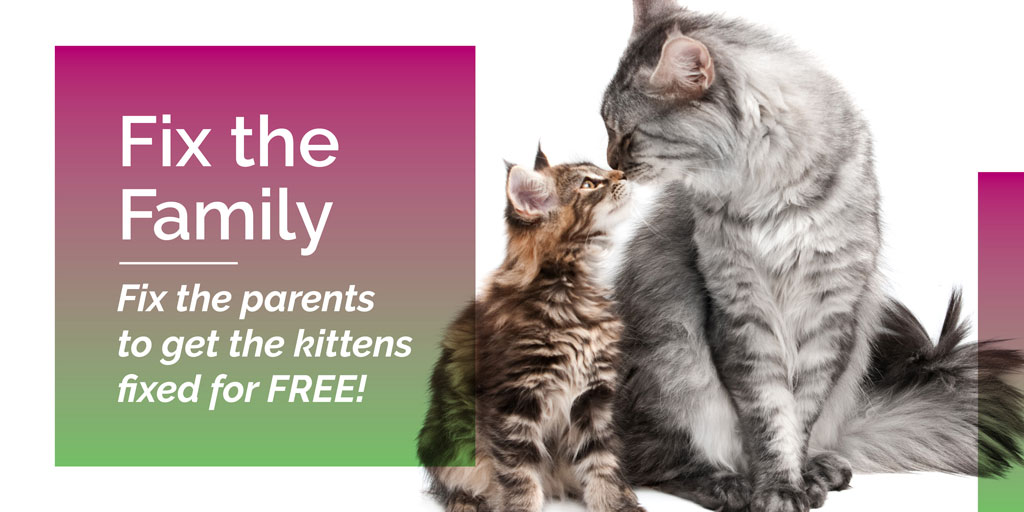 Fix the parents and get the kittens fixed FOR FREE! Give your whole cat family the gift of longer and healthier lives! For the month of April, SAFE Care will spay or neuter kittens for free with the payment of a regular-priced adult surgery. Bring the mom, the dad, or both to take advantage of this very special offer!
Hurry and make your appointment soon! We can only fix 100 kittens and spaces fill up fast!
With the spay/neuter, your cat will receive:
Physical examination
Rabies and distemper vaccinations
Ear cleaning
Nail trimming
Pre-op pain medication
To book your appointment, call 919-872-7730 and say you want to "Fix the Family!"
PLEASE NOTE: Kittens must be eight to 10 weeks old. Appointments must be made by April 30 but your surgical appointment may be delayed to May or June due to the volume of clients this offer will serve. All adult spay or neuters will be charged at full price. No feral or community cats for this offer, please. No other coupons or discounts can be applied along with this offer.