17th Annual Tuxedo Cat Ball
Friday April 22, 2022 – 7:00 pm – 11:00 pm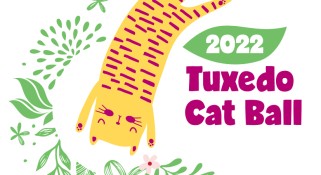 Tuxedo Cat Ball 2022
Friday April 22, 7:00-11:00 pm
Celebrating the Power of our SAFE Haven Community!
The Shared Purpose…
The Goodness…
The Impact…
The Lifesaving…
The 17th Annual Tuxedo Cat Ball
Friday, April 22, 2022
7:00 pm – 11:00 pm
North Ridge Country Club
It is wonderful to be able to get back together to celebrate our 51,000 lives saved.
Because of you, our supporters, adopters, and volunteers, we have just adopted our 12,600th cat and completed our 39,200th surgery in the SAFE Care Clinic.
The Tuxedo Cat Ball is the place for you to be among like-minded friends who love cats!
We guarantee you will have a smile on your face all evening as you dine on excellent food, enjoy delicious wine, and bid on an incredible selection of silent and live auction items.
Don't miss the opportunity to see our new Tuxedo Cat Ball video and spot your favorite cats from the last year!
The Tuxedo Cat Ball Silent Auction will open online at 10:00 a.m. on Friday, April 8, 2022, and will close at 10:00 p.m. on Friday, April 22, 2022, at the close of the Tuxedo Cat Ball. You can, therefore, be bidding on items two weeks prior to the Ball. You do not need to be present at the Tuxedo Cat Ball to win auction items. If you attend the Ball and win items, you should plan to take them home with you that evening as all items will be displayed at North Ridge Country Club.
If you are not in attendance at the Ball, please note that many items cannot be shipped and will have to be picked up in person at a designated time at SAFE Haven for Cats, 8431-137 Garvey Drive, Raleigh, NC 27616. You will receive an email from SAFE Haven for Cats on Monday, April 25th to make arrangements for you to pick up your item(s). Whether an item can be shipped is included in the item description so please bid accordingly. All shipping costs will be paid by the auction item winner.
Thank you so much for bidding on our Silent Auction items. Good luck!
A chance to win $1,000 CASH.
Dance to your favorite song.
Free valet parking!
A chance to win $1,000 CASH.
Visit with cute kittens.
Dance to your favorite song.
Laugh, get misty-eyed, celebrate your compassion and the love of all things CAT.
About SAFE Haven for Cats…
Twenty-seven years ago, SAFE Haven began in a two-car garage with $800 in cash.
Fast forward to 2022 and SAFE Haven for Cats is one of the State's leading animal shelters with many programs and services created with just one goal:
To eliminate euthanasia of cats and kittens due to overpopulation. And with the expansion of SAFE Haven's physical space (completed in 2020) we are closer than ever to that goal.
SAFE Haven's very successful programs have reached over 51,000 animals to date. Here are a few of our favorite accomplishments from the past year:
We found loving homes for 941 cats and kittens at our no-kill brick and mortar shelter.
We sterilized 1,923 cats and dogs in our SAFE Care Clinic which has greatly reduced overpopulation in the State by sterilizing over 39,000 cats since opening in 2001.
We distributed 11.4 tons of donated food through our Pet Food Pantry, helping 100 families in financially challenging circumstances to feed their cats or dogs.
We saved 381 cats from euthanizing shelters.
We served 24 counties across North Carolina, representing a quarter of the entire state.
We trapped, neutered, and safely released 635 feral cats.
We partnered with 290 volunteers, who give their love and time to provide comfort to the cats and kittens in our care. These loyal animal lovers save us over $323,000 in salary dollars per year; funds that are repurposed to subsidize pet food, medical care, and shelter.
With your support of the Tuxedo Cat Ball, we can continue to increase these lifesaving services to our community and end euthanasia of healthy cats and kittens.
Look at the happy faces from way back in 2019:
Can you remember back that far?
Special Thanks to Our Sponsors!