SAFE Haven for Cats has become quite proficient in helping overweight kitties find their healthy shape. It all started with a little big cat called The Colonel. This story is about an equally chunky kitty named Verne. Monster Mash, as he was called, was 25 pounds when he was surrendered to the Wake County Animal Center. The kind folks there reached out to local rescues to help with his rehoming. SAFE Haven said "yes", and Monster was brought into our care on January 2, 2020. He was renamed to Verne to give him a fresh start.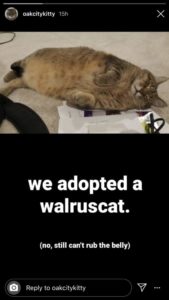 Although he was overweight, Verne was quite the looker and quickly became a shelter favorite! Our shelter director, Patti, took him in as her office supervisor, a job he took very seriously. He enjoyed being the center of attention, lazing around Patti's office (especially on her desk), and taking victory strolls around the shelter while flaunting his freedom to the other cats. After about two months of adoration, he was officially ready for adoption.
He quickly caught the eye of a very special adopter. You may be familiar with a little celebrity named Tucker aka the Oak City Kitty. Tucker became famous in downtown Raleigh after his dad started to let him take strolls around the block as a form of exercise. Tucker was a chunky kitty too. Sadly, he passed away in November of 2019. When his dad saw Verne's photo on our website, he couldn't resist meeting him. It was love at first sight.
Verne was renamed to Chester and quickly made himself at home with his new parents and kitty siblings, Moonbat and Flounder. He is now one of the stars of Tucker's Oak City Kitty Instagram page. Moonbat and Flounder make the occasional appearance as well. It's clear that Chester is the star now! He continues Tucker's legacy as most lovable chunky, grumpy kitty of the Triangle area. You can follow his antics on Instagram at @oakcitykitty.