A Letter From Our Founder and Board Chair:
Dear Animal Advocates,
The pets and strays in our community have benefitted from the goodwill of many committed and long-time donors like you, during our 25-year history. You've stood with us as we have made lasting and significant progress toward ending euthanasia, saving the lives of healthy cats and dogs in our community.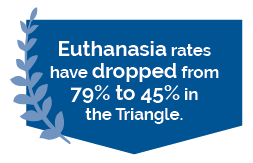 In the last eight years, euthanasia rates have dropped from 79% to 45% in the Triangle. SAFE Haven has had a lot to do with that because we haven't shied away from challenges, like opening our spay/neuter clinic in 2001, to save more animals. With your help, the SAFE Care Clinic has expanded to providing sterilization to 3,400 pets and community cats each year. Unfortunately, our current space is "maxed out" and the wait time for an appointment can be over a month.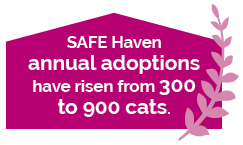 Similarly, annual adoptions on the shelter side of our organization have risen from 300 to 900 cats in the last eight years. Nothing makes us happier than seeing a formerly ill, stray cat leave the building for their new home, healthy and restored. If you find a stray cat today though, you could have to wait up to a month for a space to open up at our shelter even though we're turning over the entire population (100 cats and kittens) 9-10 times per year!
Thanks to your help, SAFE Haven is able to serve people and pets in 31 North Carolina counties. We're making progress yet, in a recent study, North Carolina had the third highest euthanasia rate of companion animals (behind California and Texas) in the nation. Across North Carolina's 100 counties, there are only 17 brick-and mortar, low-cost sterilization clinics. SAFE Haven is proud to be one of the oldest and most successful.
As a community, we have urgent lifesaving needs that we can meet NOW!
We have an incredible opportunity to double our size at our current location, allowing us to keep more animals healthy through an expanded Medical and Adoption Center.
Specifically, we will:
Increase sterilizations from 3,400 to 7,500 annually—further decreasing unnecessary euthanasia
Offer sterilization services through our Medical Center for larger dogs for the first time in our history
Reduce wait time to schedule an appointment by half
Increase adoptions from 900 to 1,100 annually
Provide increased care for healthy, recovering, and socially awkward animals
Offer pet education and outreach programs to our community, helping keep animals out of shelters
Respond to emergencies such as natural disasters and animal cruelty (hoarding) cases
To make this life saving expansion possible, we need your help.
Please take a few minutes to consider the information presented here. You will see we have done our homework. We have the experience, but we cannot move forward to end unnecessary euthanasia without you.
Sincerely and with gratitude for you,
Pam Miller,
Founder & President